Saturday morning I wake up early and meet Chuck down in the kitchen. Bev and Jan say 'hi' and 'bye', then Bev's boyfriend takes them to the airport to fly down to Scottsdale where they were going to spend the weekend with two of their other sisters. So - Chuck says, "let's go flying". OK - no pilot (even if I haven't flown for about 2 years) EVER turns down an offer to get up in the air (within the margins of prudence and acceptable odds for survival). This offer from Chuck iseven more interesting than most, because Chuck flies a Bell Jet Ranger Helicopter.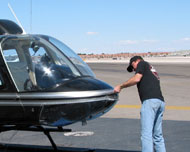 We drive up to North Las Vegas Airport, where Chuck hangers his bird at Silver State Helicopters. He puts a call in to his friend Erin, who flies helicopters for the National Guard pretty much every day, to get a second pilot on board. Good idea. In an emergency I'll take a crack at anything with wings. However, helicopters don't seem to have wings. I'd be at somewhat of a loss. Helicopters don't glide very well while you're trying to speed-read the flight manual.
Erin shows up, we gas it up and do the pre-flight,
and before we know it we're levitating off the tarmac and whacking our way across the skies of North Las Vegas.
We head west to the mountains, then south to cross through a pass so we don't have to burn too much fuel climbing. Since the Jet Ranger is turbine powered, as opposed to being powered by a reciprocating engine, it was quieter than I expected (but still noisy enough to allow you to appreciate the sound-attenuating qualities of a good aviation headset).
Our intended destination was Death Valley, but before we go there, Chuck decides to stop on Pharump to pick up an old friend to take along, Howard. Howard used to be Chucks chief mechanic (heavy machinery) with Chuck's business up in Utah, now retired.
Now - three things about Pharump. (1) It is a small agricultural community.
(2) It has a funny name. These are some good pictures of the, uh, "aviation facilities" there. Notice the good-looking guy cutting a dashing figure in the picture to the right. (3) It is the brothel capital of Nevada. This I did not find out until later. However, given the low-budget nature of my travels, this feature was not of much interest to me
I kid you not, when we landed there (pretty much in Howard's back yard) the pigs on the other side of the wall in the background were quite upset. The lizards in this field weren't particularly happy either. I'm sure several of them found themselves involuntary relocated about half a block away, wondering how that happened.