Bucks County, Pennsylvania is where I lived from the time I was nine years old until I went off to school at Lehigh University, with sporadic sojourns thereafter. Located north of Philadelphia, it was then, and still is to a high degree, a semi-rural area, much of it with a distinctly gentrified complexion. My parents and a number of friends still live there. Recently, Bucks County got its 15 minutes of fame as the venue of the movie "Signs", starring Mel Gibson and directed by M. Night Shayamalan (who hails from the Philadelphia area).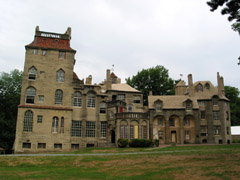 The area has a rich historic heritage, pre-dating the Revolutionary War. Much of the local architecture is well over 200 years old. Doylestown, located in the center of the county, is the county seat.
At the turn of the 20th century it was the home of Henry Mercer (manor and carriage house pictured here left and right), and eccentric millionaire who built a large ceramics studio (locally referred to simply as the "tile works") on his estate, and an enormous museum downtown.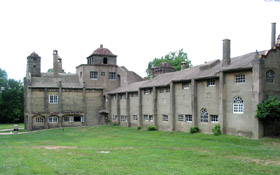 The Tile Works (left) is still a working facility. "Mercer Tiles" are a valued architectural commodity, and are found not only in Bucks County buildings, but in homes and buildings throughout the country. They are still made today in the same manner they were made over 100 years ago.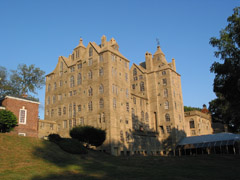 The Mercer Museum (right) is built entirely of poured concrete and can only be described as fortress-like. Inside, you will find one of the most eclectic collections outside of the Smithsonian. Henry Mercer seemed to collect everything - tools, clothes, boats, weapons, indian artifacts, wagons, ceramics, minerals - sometimes displayed in what seems to be a random arrangement. If you make it to the top floors, you will even find, in one large side room, a collection of gallows trap door mechanisms.
Across the street from the Mercer Museum is the James A. Mitchener Arts Center (James Mitchener, Pearl Buck and Margaret Mead were also local residents). This building, even when I was living in the area, was the local prison (and no, if you must ask, I never saw the inside when the facility operated as such).
Architecturally, it would have been indistinguishable from any Old World prison built in the 14th century. I imagine the accommodations were probably almost as comfortable. Now, the central yard is a sculpture garden, and the interior houses other works of art. It also houses the public library. So, if your teenagers tell you they are spending the afternoon in the prison, I wouldn't be too alarmed by that statement.
... Next Page ...