For the weekend of 8/23, I traveled up to New York to visit my friends Shauna, Michael and Zack. Not wanting to drive my Trooper loaded with my personal possessions (let alone try to find a parking space in Manhattan), I elected to take the bus from Doylestown, PA to the Port Authority Building.
I met Shauna at her office Friday afternoon. Her office is just a few blocks from Ground Zero. It seemed to be the appropriate first place to go. It was clearly visible from some of the windows on her floor.
There is no debris of the towers remaining. The site is now a construction site. Work is proceeding to rebuild the subway tunnels than run below the site.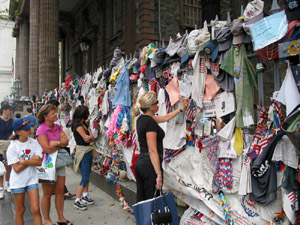 From the ground level, little can be seen of the site, due to fences, construction trailers and equipment that surrounds the area. However, in the surrounding area, the memorial walls still flourish. The entire block of fencing around the Trinity Church has been, and remains, a testament to the heroes and victims of the attack, with various articles sent from all over - everything from shirts and hats sent by police and fire departments inscribed with messages of sympathy and support, to cards and posters created by school children from all over the world.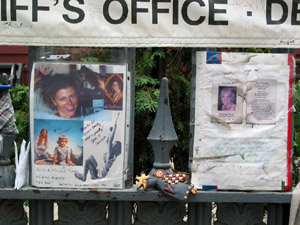 The individual personal memorials are the most poignant. The streets and sidewalks are crowded with people - this is, after all, New York - but here they slow their pace and quiet their voices. Everyone passes their eyes over what is there, many stop to look at details and read inscriptions. This seems to be true of both the tourists who are here for the first time, and the natives that probably walk this way every day. They seem to be searching for some sense of comprehension in the midst of such an incomprehensible act.