I left Austin about 9:30 AM, heading east, with a long drive ahead. I stopped at the Louisiana welcome center just over the border. Given the heat and humidity, this lake behind the center (left) looked pretty inviting -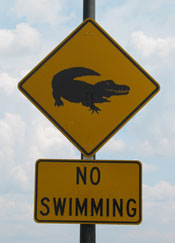 except for one little thing ...
Ya' Know, signs like this seem to be real effective at getting some people to obey. It worked for me. This sign not only kept me out of the water, it was also a major factor in my decision not to get too close to the edge. Strangely, I saw a number of children walking along the banks, with their parents seeming to be totally unconcerned. I imagine they either didn't read the sign, or else they didn't know about the favorite ambush technique of alligators and crocodiles. It seems the like to lurk just below the water close to the shore line, still and silent, waiting for lunch to wander by, at which point they bolt out, grab their snack, and pull it into the water.
Maybe they should show a video or something.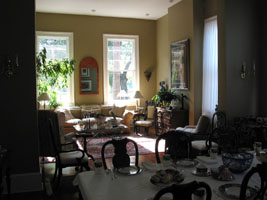 I finally arrived in New Orleans about 7:30 PM, and easily found the Parkview Marigny on Frenchman Street. The hosts, Larry and Chris, showed me around and got me settled. The place was very nicely done with antique furniture, and was (thankfully) very well air-
conditioned. Here's a few pictures of the parlor, dining room, and one of the bedrooms (not mine).
In the evening I wandered about the neighborhood a little - there were lots of restaurants, bars and coffee shops within a few blocks. I caught a bite to eat, but after 10 hours of driving, I wasn't up for too much partying, so I didn't stay out late.