Start: Key West, FL
Finish: Long Key, FL
Miles Today: 91
Miles to Date: 9301
Trooper Mileage: 178222
After three fun-filled (and somewhat expensive) days in Key West, I needed to start moving up towards the Miami airport, since I had a flight Monday back to Phoenix for a few days so I could make my appearence at the AZ DES offices. Evidently you have to show up in person on occasion in order for them to determine that you are still elligible for unemployment benefits. I found round trip airfare for $258 through Travelocity. It was money I really didn't want to spend, but since I'm getting about $200 a week and could still collect for another 5 months or so, I decided it was a wise investment.
I still had one more night in the Keys, and I decided to spend that camping in Long Key State Park.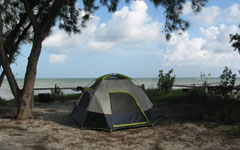 Although Long Key doesn't have the developed marina area that Pennycamp Park has, it is actually a better camping spot than Pennycamp. I was still itching like crazy from the two or three hundred mosquito bites I got at Pennycamp, trying to figure out if I'll come down with malaria, dengue or yellow fever. At Long Key, you camp right next to the beach, and the off-shore breeze keeps the bugs away.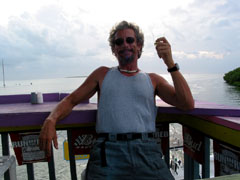 After setting up camp, going for a swim and taking a nice hot shower I decided to drive over the bridge to the next island where there was a nice waterfront bar and restaurant. Seeing as I am trying to get into the whole Hemingway frame of mind (except for the moribund bipolar aspects of it) I found that participation in certain evening ceremonial activities was appropriate (with considerable moderation, of course).
I slept quite well that night, with the breeze cooling things off, as well as keeping the mosquitos at bay.