Start: Scottsdale, AZ
Finish: Loxahatchee, FL
Miles Today: 121
Miles to Date: 9487
Trooper Mileage: 178408
I caught an early flight out of Phoenix to Dulles near DC, and then connected on a flight to Miami. I got into Miami in the evening, retrieved the Trooper (Amazingly, I actually remembered where I had parked it in the parking structure) and headed north, my destination being the home of Barb (Young) and Chuck Grundt in Loxahatchee, Florida.
Barb and Chuck live in semi-rural horse country. Barb has pretty much of a jungle for her garden, and some of the flowers are fairly spectacular. Here's a few ...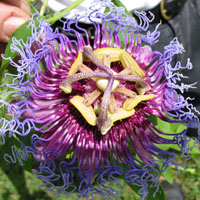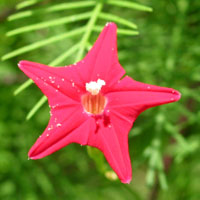 Barb and Chuck have a solar energy business called Red Hot Solar, which they have been running for years, installing solar water heaters for houses, pools and what-have-you.
They finally got a computer, and I spent some time getting Barb started on the basics (I mean really basic, like how to drive a mouse). I'm sure Barb, once she gets the hang of email, will probably be a prolific emailer, since all of her hand-written letters from the past were lengthly and detailed.
You'll have to ask Barb what these flowers are. She ran off the names of all of them, but I can't remember any except for the passion flower in the upper left.