I left Max Paul and Gayle's place in Heber Valley heading south through central Utah on route 89, my destination being the area of Capitol Reef National Park.
Along the way I passed through more small towns. Now, unless you were in a coma during every American history class you ever took, you know that Utah was settled in the 1800's by pioneers of the Mormon faith, officially known as the Church Of Jesus Christ of Latter Day Saints.
No discussion of Utah would be informative without mention of this aspect of the state's culture. The continued influence of this church - more than influence, dominance - in the lives of people that live in this part of the world is obvious to even the most casual observer (this is neither a criticism nor an endorsement, merely an observation). The streets in many of the towns are named with a numbering system that was originated in Salt Lake City. The number of the street reflects the distance and direction of the street from the temple or ward house, which is the center of the town (or it was when the town was originally laid out).
I passed through the town of Manti, which is located almost exactly in the geographic center of the state of Utah. Before you even get to the town, an imposing edifice rises above the horizon.
The building is, of course, one of the major temples in the state of Utah. I'm not enough of an architect to characterize its features exactly, but I'd call it kind of neo-gothic (hey Roy, what would you call it?). Surrounded by an immaculately manicured lawn covering maybe a dozen acres, if you didn't know what or where it was, you might mistake it for the country estate of major European royalty.
Nearby, there is a large bronze statue of Moroni, a major figure in LDS scripture. Having only read the first 2 or 3 chapters of the Book of Mormon myself, I won't try to explain in detail this figure's place in their Scripture. From what I can gather, he was, in various incarnations, and angel and a living prophet, who appears at various times in the history as described in the Book of Mormon, including at one point as a living human in the new world (long before white men came here) as described on this plaque (you'll have to click it to read it well):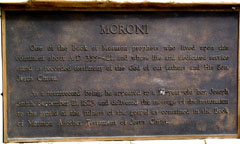 Continuing on from Manti, driving ever further south, I eventually arrived in the area of Capitol Reef.