I knew this day was going to see me back in Arizona, but I wanted to see some more of Bryce Canyon before I left. Whereas yesterday I viewed it mostly from above, this morning I wanted to hike down into it and get a different perspective.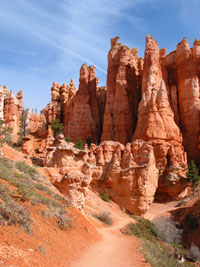 There's lots of trails in the area. A number of them are relatively short, easy walks of an hour or less. I could take a leisurely morning hike without burning up too much time, and get on the road before it was too late in the day.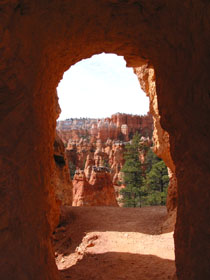 The sky was blue and the air was cool, but not to cold. The trail I took did not secent too far, maybe 500 feet, wandering amongst the hoodoos standing sentinal over growths of juniper and pine. In places passage ways were cut through the rock, framing sky and stone, like looking through a giant keyhole.
As I walked along, a lilting tune began to drift in and blend a little color to the otherwise tranquil background. It was the sound of a flute - and it was the perfect sound for this space and moment.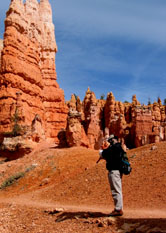 Eventually I came across the source, a lone individual standing on the trail, playing, enjoying the unique acoustics as the notes he spun drifted around the spires, echoed over the cliffs, strangely persistent even from a distance.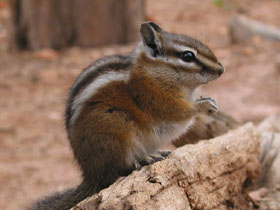 The stands of juniper and pine supported the expected wildlife, which seemed to be accustomed to people walking by. I'm sure this little guy was much more concerned about hawks and owls than he was by my camera lens.
I walked for about three miles, the trail ascending again up to the rim. It was time to get back to the trooper. I was anticipating my return to Arizona, only an hour away.