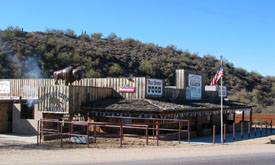 OK, here it is, Cave Creek, Arizona. I've spent a fair amount of time in and around this area in the last 22 years, and for some reason I've developed a really compelling urge to buy this little condo and move up here. A few people have told me I've got to be crazy to buy real estate when I have yet to develop a reliable income stream, but most people think it's a good idea. Regardless, my gut tells me without reservation to jump on this opportunity, and in the past I have generally regretted it when I haven't followed my intuitive feelings.
First, in and around Cave Creek, there's lots of THIS. Big Green Things With Lots Of Sharp Spines. Also coyotes, javelina, rattlesnakes, lizards, scorpions, and all sorts of other creatures that don't seem to subject themselves well to domestication. There is a golf course in the area but I try to ignore it, in spite of the fact that it will be visible from my west-facing windows. Just to the south-east
of my place is Black Mountain, the top of which has been acquired as a preserve area. A few mile to the north is Spur Cross Ranch, which was purchased and set aside as another preserve area. This really irritated the local developers. They had plans for lots of very high-end houses in the area.
If my Trooper does break down, there is local alternative form of trasportation. It burns hay and alfalfa. It emits some methane but virtually no carbon monoxide. As far as I know there are no plans for upgrading this to an electric-hybrid version.
To the right is part of the parking lot behind Harold's Cave Creek Saloon on a Saturday morning. 'Nuff said.
I'm not sure what happens when a group of horses meets a group of Harleys. I assume the horses have learned not to be too spooked by the bikes' signature rumble. I'm sure I'll have a chance to observe.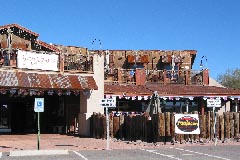 A lot of the local eating and drinking establishments are within walking distance (or on a really fun night, crawling distance) from my place. Fandango's here has some really good Mexican food. I'm not sure, but I suspect that leftover food, broken service-ware and non-tipping customers are simply dropped down an old mine shaft in the back.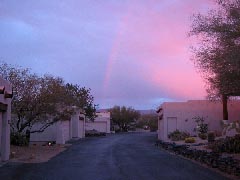 Since Cave Creek is almost 1200 feet higher than downtown Phoenix and out of the "heat island", the temperatures are generally about 5 degrees cooler. In the winter, the area even gets an occasional dusting of snow. I've seen some substantial snow in the higher surrounding mountain and mesa areas.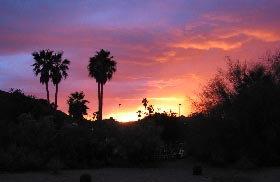 So - I'm really really excited about this move. As far as the actual physical abode, it will be a considerable down-scaling from what I've had for most of the last 19 years. But, overall, I think this move will improve my current quality of life immeasurably. Wish me luck!