WHAT THIS IS ALL ABOUT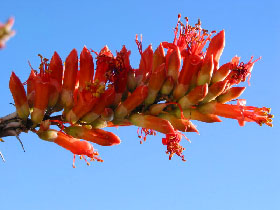 In 2002, I took a midllife sabattical of sorts - the details of why you can read a little bit about by clicking the "prolog" link to the right.
I spent 6 months on a 17,000 mile road trip all over the US and a little of Canada. It was, without qualification, one of the greatest experiences of my life.
HOW TO FOLLOW THE TRAVELOG: On the left side of this page are a list of links. The date links from 04-18 to 10-05 will take to you the beginning page for that day. Alternatively, you can click the link that says "HIGH_LIGHTS" to get a page listing specific locations. Some days are more interesting than others - kind of like life in general - but, I'm sure there's something in here to amuse just about everyone, and irritate more than a few.
I started this little travel blog so friends and family could follow along. Things got a little more involved than that, however, and at one point I was getting 8,000 hits a day on my website as people followed me around, and dengin emails from all over the world.
That was in 2002, and things have quieted down considerably since. As I write this, it is December 2006, I have moved from Arizona back to the East Coast - what I describe as the "Tidal Forces of the Universe" have swept me back in this direction. After a few years in purgatory as a low-wage slave in a financial institution I'm back in the tech business, doing software and engineering for a major player in the cellular data communications business.
Anyway - the text going forward from here is old stuff, which I retain for historical purposes.
November 22, 2003 -
NEWS - In September, after 18 months of unemployment, I was offered a position with the Vanguard Group (of Vanguard Mutual Funds), which I started Oct 6. This is going to be a change of pace for me - this is a non-technical job. However, given the size of Vanguard's IT department, perhaps at some point in the future I could make a transition.
I have been doing a little consulting here and there, but it's not quite enough to pay all the bills. Now that won't be a problem - I'll be able to make mortgage and car payments, and still have some left over for food. Additionally, I got my real estate license this summer, and I'm working with Prudential - the office is just half a mile from my place here in Cave Creek. So, if anyone out there needs to buy or sell a house in AZ, give me a call.
SO - here's what's happening ...
LOOKING FOR WORK (done ...)-
I looked for work for a long time - had a couple of "almosts" in the software field, but there was always someone with a little more experience in some specific technology that would edge me out - I usually came in second in a field of 5 or 6.
Anyway, the Vanguard job, even if the pay is modest to begin with, has so many plus'es that I couldn't turn it down (even if it DIDN"T have them I couldn't turn it down right now). Besides the office here in Scottsdale, they also have facilities in Charlotte, NC and Valley Forge, PA. Valley Forge is close to where I grew up, my family is still there, and I still have lots of friends there. So, after a year, I could transfer back to PA if I wanted to - which I'll probably do, since my parents are getting older. But, I'll keep the place here in Cave Creek. I've slowly been renovating it, pretty much ceiling to floor, and now that I'll have an income stream, I can get on with some of the more expensive things I want to do with it.
BUYING A CONDO -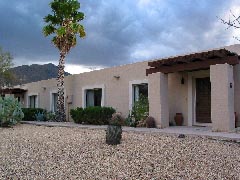 Even though I hadn'tbeen able to find suitable work in my chosen field (software engineering, design and development) I have decided to put down some roots and purchase a small condo in a little town north of Phoenix called Cave Creek. Amazingly, by putting enough money down, I have been able to get a mortgage without income documentation.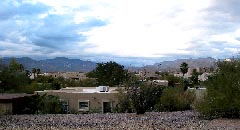 The condo I bought is small (1000 square feet) and kind of old (built in 1974) but basically sound. It is in need of some minor renovation and some major redecorating. I'll probably start posting some pages of the rejuvenation process as it goes along. In spite of needing a little cosmetic work, there's a nice view out the living room window of Elephant Butte and Black Mesa.
THE TOWN OF CAVE CREEK, ARIZONA -
The town of Cave Creek is quite different from Scottsdale (where I've lived for most of the last 18 years, with a temporary move to Ahwatukee for about a year and a half followed by 6 months of travel). It is very western. Some people still ride their horses to Harold's Cave Creek Saloon for breakfast. Then again, a number ride in on their Harleys for lunch or dinner. Both Harold's and the Buffalo Chip Saloon have live music on weekends. No, there is no Rap or Techno performed there. Think "Blues Brothers Play Rawhide Theme Song".
There is wildlife all over the place - the javelina regularly wander by my place (pictured above) and coyotes just kind of saunter through, with little notice expressed by either them or the people. Lots of things with scales or way too many legs.
Cave Creek has managed to maintain much of it's funky western flavor in spite of some creeping gentrification. The current town council (I'm very good friends with at least one of them) has been able to maintain an agenda to keep growth down to a manageable level (much to the consternation of some developers who'd like to "upscale" the whole area). The adjacent town of Carefree (you can drive through both towns end-to-end in about 7 minutes at 30 MPH) is somewhat more genteel (lots of retired millionaires and show-biz people) but we don't hold that against them.
Anyway, I've got a little page of Cave Creek imagery here if you're interested.
---
The pictures I've posted are actually reduced in size and quality from the originals taken with my camera, due to file size constraints (the single pics are 1.1 MBytes and the panoramas can be several Mbytes). Even with the reduced image sizes, these pages can still take quite a while to load if you're not on DSL or cable modem. If anyone should want the originals in their full size and quality, let me know and I'll email them to you (although email sometimes fails for attachments over a couple meg).
---
When I was visiting friends in Bethlehem PA around August 16th, I met Sherwood Ross, a writer for Reuters. He ended up interviewing me about my travels, and the employment dislocation that made it all possible. The article has appeared on Forbes and Yahoo sites, later in Excite, ZDNet, Imon and others. If you'd like to read it, it's here -

http://www.forbes.com/newswire/2002/09/09/rtr716330.html Note - this link will expire sooner or later, I'm sure
My daily visitor count went up from an average of 30 a day to over 1800 on Monday, September 9, and then to over 8000 on Saturday when Excite and others picked up the line. I'm sure this traffic was just a temporary spike, but regardless, by Monday 9/16 Earthlink shut me down.
As a result of this article, I have received a minor deluge of email. Much of it is from current and former Motorolans, some from people who have had experiences and adventures similar to mine, and many who wish they could do what I am doing. To all of those people who have been so kind as to send me messages, I would like to thank you. I probably won't get a chance to reply to every message, but I certainly do read them all, and I appreciate your contacts. I hope you continue to enjoy what I've got here, and I'll be adding updates whenever I can.