Paul had to depart very early for work so I didn't catch him in the morning. Pat and I chatted for a few hours before she had to go take care of stuff, so I off-loaded some excess cargointo their spare bedroom closet (I'm going to have to make a note of where my personal items are so I can retrieve them someday).
Finally I got started about 2:30 in the afternoon (behind schedule as usual) and headed west on I-40. I managed to find my old sky-diving altimiter and mounted it on top of the instrument cluster of the Trooper. In Flagstaff I started at about 7000 ft. As I worked my way across this part of northern Arizona, there were times where I got close to 8000 ft. There were a lot of juniper and pine forests, so at least the scenery was green at the higher altitudes. However, there were considerable winds, often head on, which slowed my progress somewhat.
The altiude gradually decreased as I approached Kingman, the dry high forests giving way to the northern desert. At Kingman I turned north on Route 93. Outside of Chloride, AZ I took a series of pictures of the Cerbat Mountains and merged them together here.


I followed 93 up to Lake Mead and Hoover Dam. About 5 miles before the dam there was a security checkpoint, where I was expecting to have the Trooper searched, since it was loaded and would be easy to hide stuff in, but they took one glance, absorbed my sunny disposition, and waved me through.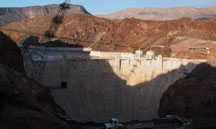 I arrived at Hoover Dam about 5:30 PM. It is really quite a site, lots of overlooks to park on, lots of people out taking pictures and generally walking about. What else can you say about a big huge chunk of concrete? Here's some pictures of the dam and the river below it.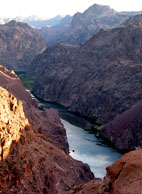 After leaving Hover Dam, it was less than half an hour to my evening's destination, the home of Jan and Chuck. I had no idea what sort of a treat I was in for. Jan is the sister of my good friend Bev, and Chuck is Jan's husband. As it turns out, Bev was also in town, spending some time with her boyfriend.