Start: Henderson, NV
Finish: Overton, NV
Miles Today: 62
Miles To Date: 463
Trooper Mileage: 169394
Towing Miles Today: 26

Today I left Henderson, traveling north through Las Vegas on I-15 about 60 miles, to the Valley of Fire State Park, which is west of Lake Mead.The purpose of this trip was actually to hook up with my friend John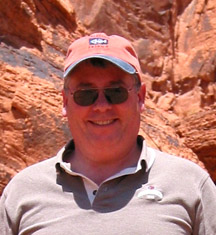 Glanville, former fellow Lehigh student and Theta Chi fraternity brother. John was actually enroute from his home in Pasadena, California to Bryce Canyon, Utah, where he was going to spend several days with a group from MIT. Since John and I were crossing paths, we decided to hook up and visit for a few hours.
John and I met at the park visitor's center and spent a few hours exploring the area. If any of you have been to Sedona, you know how striking the Red Rocks can be. The rock formations are multi-colored sandstone, the remains of sand dunes that existed in the Jurrasic period, some as much as 3000 ft high. That's a lot of sand. As the sandstone beds were weathered and eroded over the eons, some fantastic forms emerged.
I took the liberty of playing with Photoshop to artsify some of these images just a little bit, playing with contrast, color levels, and and a few other things.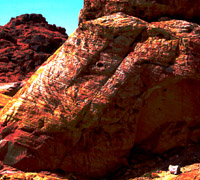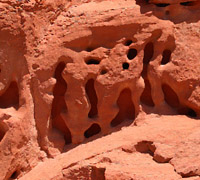 I've got a lot more pictures, but if you're like me there is a limit to your patience as things download at modem speeds, if you are a member of the great unfortunate masses that have not yet been able to take advantage of broadband.



As it got into the afternoon, the temperature was about 100 (there is more than one reason they call it Valley of Fire). This precipitated a somewhat nasty turn of events ...

Next Page ...