Start: Annapolis, MD
Finish: Annapolis, MD
Miles Today: 0
Miles to Date: 11420
Trooper Mileage: 180341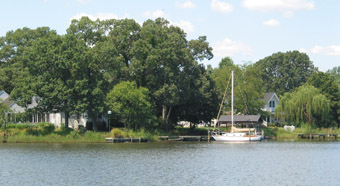 This ws pretty much a lazy day for me. In the morning Leslie and I took a bicycle ride through the parks that lie along the river.
OK, enough exercise - time for a nap.
When Jim got home from work, we took his boat out for a run before dinner. Conditions were prime. We spent ove an hour just cruising up and down the tidal inlets before going into dinner.
I Don't have a whole lot of words for this day. I think the sunset shot below pretty much captures the frame of mind you have when you're out on placid waters.
Here's a random selection of other pictures I took: