Start: Lehigh Valley, PA
Finish: Elverson, PA
Miles Today: ???
Miles to Date: > 12300
Trooper Mileage: ???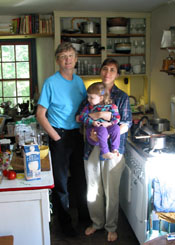 After another brief run up to the Lehigh Valley, I made a short detour south to visit some other friends that I haven't seen since they came to visit me in Arizona years ago.
Doug and Cheryl have an old farm house in Elverson, near French Creek (it seems a lot of my friends have gone rural). They also have a new daughter, Sarina, who I met for the first time. (Cheryl, if I spelled her name wrong, please forgive me)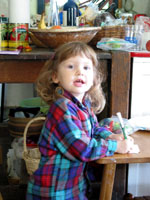 Their farmhouse is over 200 years old and had a distinctive old-world flavor. Although they didn't have accommodations for me inside, they had a nice, cozy old Airstream trailer parked between the house and the barn. Doug ran an extension cord from the barn to the trailer, so I had reading light for the evening.
I found the trailer to be remarkably comfortable. I tried to imagine myself in such a place, placed under some big old cottonwood trees, maybe near a canyon creek, with my three cats curled up on shelves or cushions, reading or writing. It felt good. As much as I miss my old place in Scottsdale that I lived in before I got married, I think I could live a much simpler lifestyle at least for a while. Maybe when I get back to Arizona I can find an old trailer and a place to put it.