I spent the weekend of 8/16 in the Lehigh Valley, specifically, the city of Bethlehem, where I went to college (Lehigh University) and where a number of my old friends still live. Allentown (as in the Billy Joel song) is just down the road.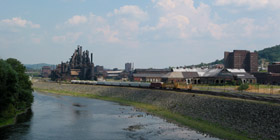 The Lehigh Valley was, in the past, a heavy industrial area, with Bethlehem Steel being the primary business. The steel mill ran for a number of miles along the Lehigh River, from the center of south Bethlehem east all the way to Hellertown. I worked for Bethlehem Steel twice, one summer (1972) in the iron foundry as a laborer, and then later from about 1976 to 1979 in their environmental control department (I did air pollution work).
The steel mill shut down years ago. It is now an eerie, silent expanse of - I can't find the word for it. It's like an industrial ghost. I actually walked down to the mill that Saturday with Sherwood Ross (a name you may see more of in a few weeks). We briefly entered the mill property, but were quickly dissuaded from venturing further by one of Bethlehem's Finest. However, on this little sortie I did manage to penetrate far enough to get a few pictures before we were turned back. Ironically, one of the buildings I photographed (to the left here) was the iron foundry where I worked as a laborer 30 years ago. I worked the 3:00 to 11:00 PM shift, which suited me fine. This allowed me to spend my daytimes watching the Watergate hearings on TV.
I vividly remember working there - hot, dirty, hazardous work. We made enormous iron castings in this building. As we toiled on the sand covered floor, ladles containing tons of molten iron moved above on tracked cranes that ran the length of the building. The "pours" were a pyrotechnic delight, although somewhat frightening. The people I worked with were a decidedly blue-collar lot, for me interesting to get to know. Those of us who were too young to drink in PA would sometimes ride over to New Jersey (drinking age 18 at the time) after work for a beer or two (I never drank to the point of impairment, though - even back then I wasn't completely stupid).
I hadn't thought about those times in years. They came back to me, little bits at a time, as I stood and looked back at the same building - now silent and cold, grass and weeds growing all around, the stone walls and arches still blackened by the ubiquitous grime that comes from the process of making iron and steel.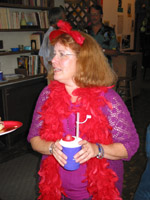 Back to the present - this Saturday was the 50th birthday of Marcie Lightwood, the wife of my friend, schoolmate and former room-mate Gene Mater. Her party was somewhat more involved than mine (which is just fine with me, 'big parties are too much work for an old man like me). The bash took place at Godfrey Daniel's, a coffee house and musical venue that has been operating in South Bethlehem since I lived there in the 25-30 years ago.
It really was a great party - lots of people from the 60's and 70's. I ran into a few people I hadn't seen for over 25 years. And would you believe - one of the soberest parties I've been to outside of those thrown by friends in AA and NA.
In spite of the distinctive absence of mass inebriation, people actually all sang along with Gene and Marcie, pictured here - Marcie's mom, daughter Laura Lee, Sherwood (mom's man-friend), Marcie herself, Gene on guitar. It sounded like they practiced, because everyone sounded good, with multipart harmony even - not the usual cacophony you'd expect from such a large crowd. The repertoire included lots of 60's type peace and protest songs (appropriate for this crowd). I truly needed this exposure to counteract the massive amounts of weaponry that has received a lot of coverage on other parts of this web site.
Now - on to some classic Victorian architecture ... Next Page ...