The service people at Pep Boys had me out of there my mid-morning, no charge. Off I went again - for a few miles, anyway. Just down I-10, the engine started to sputter AGAIN. Also, I noticed that the gas gauge went from almost half a tank to less than 1/4 tank real fast. I pulled off an exit ramp again. This time, however, the engine did start again, it just mis-fired and sputtered a lot. I decided to try to make it back to Pep Boys.
I managed to limp back into their parking lot, the fuel gauge going to almost empty in the process. As I stopped the engine and got out, gasoline came pouring out of the vapor recovery canister under the hood. I grabbed my laptop and digital camera, the two things I consider the most irreplaceable of my possessions, wince they carry the journal of this trip.
It was immediately obvious that as I had been driving along, raw gasoline was pouring out of at least one place, and maybe two, on the Trooper. It seems I had been driving around in one big Molotov Cocktail waiting to happen. To echo the sentiments of everyone else, This Is Not A Good Thing. The Pep Boys people looked a little chagrined, but they got the truck into a bay immediately and looked things over.
They did find a hole in one of the fuel lines, where some gas was leaking. There was no immediate indication as to why fuel should be pouring out of the vapor canister, but after replacing the fuel lines, the problem seemed to go away. Probably some sort of vacuum or back-pressure thing. Just to be safe, after the additional repairs (which they did not charge me for either) we put the Trooper up on the lift and ran the engine up to 60 mph. Nothing seemed to be leaking anymore, so I felt safe to take it for a test drive. I drove it about 10 miles, and everything seemed to be OK.
Finally back on the road again by about 1:00 in the afternoon, I stopped several times to look for leaks and sniff for gas. Every time there was the slightest change in engine sound I got a little adrenaline pop, even though it turned out that these things were caused by bumps in the road and the air conditioner compressor kicking in.
Fairly late in the evening I arrived at the home of Scott Hopkins and his wife , Cristie Gold. Scott was my Theta Chi Big Brother back at Lehigh University. He teaches math at the local high school, and Cristie teaches English. No doubt Scott will be checking that math in my mileage logs, and Cristie will be reviewing my journals for grammatical correctness, logical structural progression and general creativity.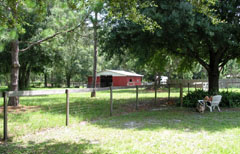 Scott and Cristie have a beautiful little farm/ranch, 2 dogs, 2 cats and 2 horses. Cristie rides dressage, something I'm familiar with having lived in Scottsdale for 16 years and spending a few years living with a lady who rode dressage.
Those of you who know Scott will be happy to know that his famous record collection (as in real vinyl LP's)continues to thrive, although he does have a bunch of CD's now. He also still does an evening radio show on the local NPR jazz station one night a week.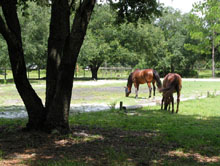 Although our visit was abbreviated, it was good quality time, and having made the re-connection after so many years (I've seen Scot once since 1975) I'm sure we'll connect again.