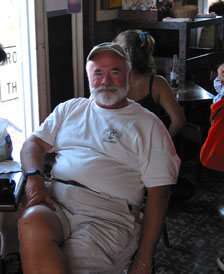 I had the good fortune to arrive in Key West during their annual "Hemingway Days" festival. Today was one of the high points of the festival.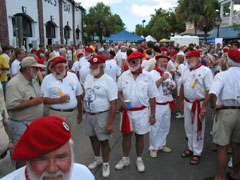 Las Vegas has it's Elvis culture, with a formidable army of Elvis inpersonators that seem to occupy just about every niche of that town. Key West, on the other hand, has an equally impressive field of Hemingway look-alikes, both locals and imports, who descend on the town (prominently the bars) to take part in the Hemingway Days festivities, and to compete in the annual Ernest Hemingway Look-Alike Contest. Frankly, I prefer the Key West tradition.
One of the main events of the festival is the "Pamplona Running of the Bulls". Given the fact that I, along with many people, secretly harbor a morbid fascination with the possibility of witnessing someone getting gored, gutted and dismembered, I looked forward to the event.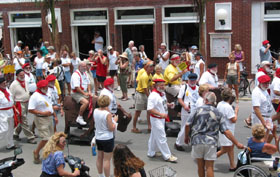 The local commentators also refer to it as the "Wandering of the Bulls", the "Meandering of the Bulls", and the "Stumbling of the Bulls". It seems tha sobriety was not a prerequisite for successful survival of the event.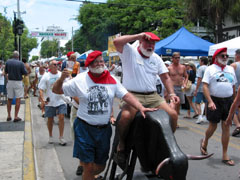 Besides - if you lost a Hemingway or two, there were plenty more where they came from.
Of course, no consideration of Hemingway history would be complete without a field trip to the location to which he offered so much of his attention, which is, of course, Sloppy Joe's bar. Hemingway, being severly manic-depressive, self-medicated with prodigous amounts of rum (Prozac and ZoLoft not being invented yet).
There is a Sloppy Joes in Key West, but the current establishment of that name is not the original Sloppy Joes. The original is just down the street, and is now called Captain Tony's. Allow me to digress somewhat. In Scottsdale (my past, and hopefully future, haunts) there is a steakhouse called the Pinnacle Peak Patio. Anyone who wears a tie there will have in unceremoniously severed from his person, and the remains will be hung in the rafters of the dining room ceiling. In Captain Tony's, the have an analogous form of rafter decoration. I like their's better. I was not fortunate enough, however, to witness a patron being divested of her offending article by the tavern staff. It probably would have been an interesting struggle.
An interesting fact (to me, but of probably no consequence to anyone else) is that Captain Tony's birthday is the same as mine, August 10th. He has a few years on me, though.