I had no idea what to expect in Key West. I found it to be a really beautiful town with lots to do - truly a worthwhile vacation destination for anyone traveling to Florida. Forget about buying a house here, though - I looked at the real estate magazines and found a nice little 800 sq ft fixer-upper in the downtown area for about $400,000.
After getting a good night's sleep in clean sheets, the first order of business for the day was to visit the Hemingway House. The house was actually built by Asa Tift in the 1830's. Asa Tift made his fortune salvaging wrecks off the reefs. As a matter of fact, "wrecking" ws the primary industry of Key West in th 19th century. Anyway - more on that later.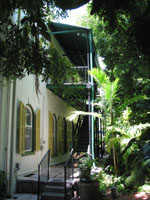 Ernest Hemingway actually only lived in this house while married to his second wife (of four). They split up shortly after he returned from Spain to find that she had installed a pool in the back yard - at a cost of $20,000 when the purchase price of the house was $8,000. Financially, he did almost as poorly with his second wife as I did with mine.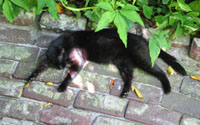 Maybe you've heard of the Hemingway cats. They all have 6 toes instead of 5. Hemingway always kept 30 to 50 cats on the property, all of the same 6-toed line. This tradition is maintained to this day. Currently, there are 61 cats on the property. They can be seen lounging around the walkways, generally oblivious to the human traffic that passes by.
Hemingway's studio in the upstairs of the guest house is maintained as it was originally, with his old typewriter sitting on the table. He wrote in the morning, went fishing in the afternoon, and then drinking at Sloppy Joe's all night. I remarked that I could enjoy a lifestyle like that - writing part of the day, doing fun recreational things part of the day, and then partying part of the day - but wait - I DO live a lifestyle like that (although I keep my partying down to a considerably healthier level than he did).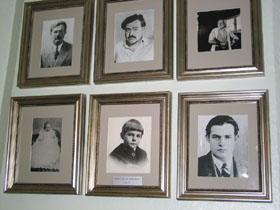 His house was across the street from the Key West lighthouse. Rumor has it that he bought that house so that no matter how drunk he was, he would be able to find his way home by following the light house beacon.

As often happens in my travels, I arrived in Key West at an opportune time. The weekend I was there was the weekend of the annual Hemingway Days festival, which involved all sorts of foolishness.
There is no way I can reasonably put up all the pictures I took at the Hemingway house, or relate all of the stories and information about the man and his life that I picked up on this visit. I will say, though, for anyone who visits Key West, the Hemingway House is a must-see.
Key West does have a few nice beaches, and I did get out for another 1/4 mile swim (my dad at 78 still out-swims me).