Before leaving in the morning, I went on a snorkel excursion out to the coral reef, which is about 5 miles off shore. I had been there about 30 years ago during a winter break camping trip with some college buddies (more on that later).
Pennycamp Reef is the first reef I ever did any snorkeling or diving on (I've lost track of the count of reefs I've dived since). If memory serves me correctly, when I dived here in 1971, the reef looked a lot healthier than it looks now. I think the coral has degraded, and the fish population has declined. Since my digital camera isn't waterproof, I've got no pictures there.
Now for a little history. In the winter of 1971, Fred Coker, Bill Field and I drove from Lehigh University in frigid, dismal Bethlehem, PA to the warm, sunny Florida Keys for about 10 days of camping. We traveled in Fred's aging Datsun station wagon, departing shortly after Christmas. Driving straight through non-stop except for food and sanitation breaks, it took us about 26 hours.
Our destination was Little Duck Key, which is a small island (200 yards wide, 4/10ths of a mile long) on the southwest end of Seven Mile Bridge. At the time, the island had no facilities and no official inhabitants. It did, however, have lots of trees and a really nice beach. It also had one official sign, reading "No Camping Or Overnight Parking", which was generally disregarded by the 80 or so students, gypsies and other wandering souls that took up at least temporary residence there. This being "the 60's" (which actually lasted until about 1974), official pronouncements by inanimate objects didn't carry a lot of weight. Although I must admit, that in that age I did on occasion see individuals carry out extended and vehement arguments with inanimate objects. That's another story.
This is where Bill, Fred and I camped for a number of days, along with lots of other college refugees from the foul weather of the north.
What with there being an official sign and all, the local police felt obliged to come about every three or four days and insist everyone cease and desist their illegal camping activities and move on. For me and a few other people, the situation was remedied by swimming the quarter-mile or so to an even smaller island to the northwest, which was not so inconveniently connected to a road facilitating visits by the local police.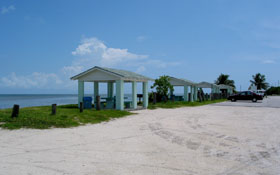 Why am I digressing over 30 years, are you wondering? Well, as you can probably figure out by now, I did stop there for a while and reminisce, as well as get in another extended swim. I was very disappointed to find that many of the trees had been removed. Even worse, cement ramadas, a paved parking lot, and iron cooking grills had been installed in their stead.
So, although the beach was still nice, much of the original charm of the island hd been removed (perhaps memory is sweeter than the original reality - I don't know).
But that damned "No Camping" sign is still there.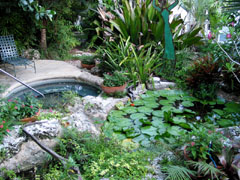 After my trip down Memory Lane at Little Duck Key, I continued on to Key West, arriving there in the early evening. Since there is no camping in Key West itself, I decided once again to treat myself to accommodations with electricity and indoor plumbing. I found a delightful place called the Paradise Inn, very close to downtown Key West, and managed to negotiate favorable rates (for Key West, anyway).