I broke the 10,000 mile mark on my trip today.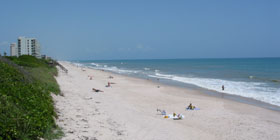 Bidding goodbye to Barb and Chuck, I headed up the Florida coast. I stopped by one of the beautiful beaches for a while (this one is near Cocoa Beach) but didn't dawdle too long. One thing along my route was this interesting little piece of real estate called Cape Canaveral. I couldn't just pass this place by without stopping in. Even though I couldn't expect the kind of tour I got at the Manned Spaceflight Center in Houston (see June 27 journal if you haven't already) I figured it would be worth seeing.
This being a Saturday, the crowds were pretty big. The tours were operated by the Parks Service, not NASA. The price was kind of steep - $26. But, again, I had to see this place. Think of it as kind of a theme park, like Disneyland. The main difference is that you don't get to go on the rides. Too bad ....
The price of admission includes a bus tour out to many of the various facilities (the place is huge - forget about walking). One of the first places you see is the Vehicle Assemply Building. This is where they mate up the shuttle with the external liquid fuel module and the solid fuel boosters. Prior to the shuttle progam, this building was used to assemble the Saturn launch vehicles and spacecraft for the Apollo program To give you an idea of how big the building is, the blue field in the American flag is larger than a regulation soccer field.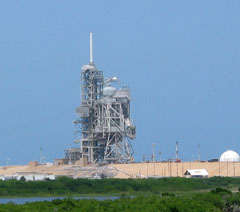 From this building, the assembled spacecraft and portable launch platform is moved a few miles to one of two launch complexes, 39A and 39B, by the "crawler". The spacecraft, platform and crawler together weigh, if I recall correctly, about 16 million lbs. The crawler moves at less than a mile per hour. Fuel efficiency is - well, there isn't any. The whole conglomeration gets 35 feet per gallon.
If you read the June 27 journal, you got to see my pictures of Apollo Mission Control in Houston. This, to the left, is Apollo Launch Control. For those of you not familiar with manned spaceflight operations, Launch Control controls the pre-launch and post launch operations of a manned spaceflight. After launch operations are completed, control passes to Mission Control in Houston for the duration of the mission. Whereas I had the old Mission Control in Houston pretty much to myself (except for my host Deb and Jerry, the Director of EVA operations) at Canaveral I had to share Launch Control with a few hundred other tourists. Oh well ...
After leaving Cape Canaveral and the Kennedy Space Station, I drove all the way to Charleston, South Carolina to visit Darragh. Unfortunately Darragh had some unexpected things pop up that required her attention, so I went looking for a motel for the evening. For some reason, every hotel and motel in town was booked up. I finally found a Hampton Inn that had a room for $110. It was money I didn't want to spend, but there wasn't much choice, since I couldn't stay at Darragh's and it was a little late to go look for a camping spot.