Start: Charleston, SC
Finish: Isle of Palms, SC
Miles Today: 24
Miles to Date: 10082
Trooper Mileage: 179003
Finally, I managed to hook up with Darragh for a visit. In the afternoon we went out to visit her friend Debby Dukes, who lives on a large farm outside of Charleston. Here's the three of us enjoying lunch. Those of you who knew Darragh back in our high school days will probably recognize her immediately. She hasn't changed that much - still just as cute ;-)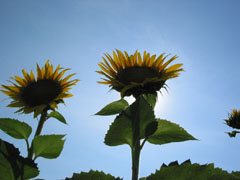 The trees are covered with Spanish Moss, which gives them a silver glow as the sunlight filters through the branches. The primary (actually the only) crop grown on the farm is sunflowers.
The farm is on the banks of a tidal estuary, typical of the wetlands in the area. Waterfowl are numerous in the area. Dolphins use the area as a nursery, and they can be seen with their young playing in the waterways.
Later in the afternoon we returned to Isle of Palms, went down to the beach, and went for a swim. There was some nice surf in the area, so I spent a little while riding the waves.