Start: Isle of Palms, SC
Finish: Canton, GA
Miles Today: 358
Miles to Date: 10440
Trooper Mileage: 179361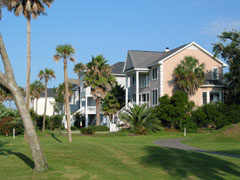 In the morning we took Tess, the dog, for a nice long walk. Isle of Palms is a resort community (funny how I seem to gravitate to places like that) with the usual requisite golf courses, water amenities and astronomical real estate prices - which makes it more practical, at least at this point in my life, to visit people who live there, as opposed to buying a place of my own (I still want to get another place in Scottsdale).
Leaving Isle of Palms in the late morning, I headed west in the general direction of Atlanta. This was sort of a backtrack, but it looked like a few zigs and zags in my general trajectory were in order.
Most of the way through South Carolina was on rural roads - very pretty, lots of attractive farms, small towns (some with speed traps) and the ubiquitous Spanish Moss hanging from pretty much everything. This made the going kind of slow, but once I got to Augusta, I picked up I-20 and took it all the way to Atlanta.
I reached the Canton (north of Atlanta) home of Roy and Sue Ann Taylor (and kids and kids' friends) in the evening. As promised, Roy had a bottle of Grey Goose chilling in the freezer.