Start: Canton, GA
Finish: Canton, GA
Miles Today: 0
Miles to Date: 10440
Trooper Mileage: 179361
It didn't take me long to settle into a very relaxed frame of mind in Canton with Roy and his family. Pictured at the left is Roy with his wife Sue Ann, their two daughters Katie and Jessie, and Chris (a friend of Katie). Absent is Michael, Sue Ann's son, who lives elsewhere in Canton, and didn't make it for the picture (he was actually working somewhere).
For those of you who don't know Roy, he was a room-mate of mine in Theta Chi at Lehigh University. For those of you who do know Roy, he still has the same amount of hair he had 30 years ago, with no visible thinning, and almost no gray at all (at this point I imagine quite a few of you grumbling and starting to stick long pins into dolls).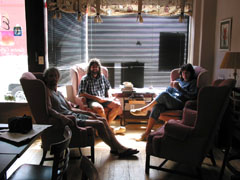 Canton is one of those almost mythical slices of small-town Americana. From their house, you can walk downtown in about 2 minutes to a coffee shop, performing arts theatre, and various non-mall type commercial establishments. Roy, being probably the main architect in the area, seems to have had a hand in a lot of past and present projects. There is a river that runs through town, with lots of areas that have potential for use as parks and local recreational areas. The area is well forrested with mixed hardwoods and pines. And of course, this being Georgia, kudzu weed seems to grow on anything that stands still for more than 15 minutes.
Sue Ann continues with her video and cable program production business, and seems to be getting her hands into a number of things. She was highly complimentary about my writing, encouraging me to develop it, work it, and even try to make some money at it. She went so far as to loan me a few books on getting and agent and recommended a few others. She even gave me a couple of screen plays that needed some re-working to see if I could do anything with them (this is something I'll play with when I get to a more sendentary condition).