Start: Canton, GA
Finish: Canton, GA
Miles Today: 0
Miles to Date: 10440
Trooper Mileage: 179361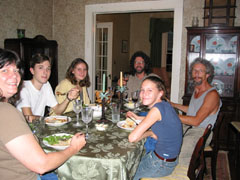 Roy and Sue Ann both run their businesses from their homes. The two daughters still live there full time (although Katie is looking at schools in Oregon). A nice side effect of this is that there usually seems to be some sort of production activity going on in the kitchen. Since I had been under-eating during most of my march across the South (due as much to the fact that it was just too bloody hot to eat as much as anything else) they took it upon themselves to insure that I got a healthy caloric intake while under their roof. (u-u-r-r-p.)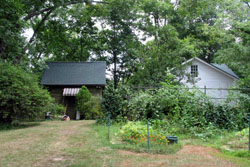 Behind their main house, they have two other buildings. One used to be the servants' quarters, which is being refurbished into Sue Ann's new office. The other was a carriage house, which has already been remodeled to contain a small apartment, with a kitchen and bathroom downstairs, and a studio upstairs. This is where they put me. It was so comfortable up there, and such a pleasant place to sit and write, that I threatened to invoke squater's rights and park there for the foreseeable future. Sue Ann seemed ready to write up a deal where I could stay as long as I wanted under the condition that I spent the time writing something, and that she got a portion of the movie rights.
Granted, to those of you who have enjoyed reading about some of the more exciting events of my travels, this is all rather sedate. But, there are some places that just feel really good to stop and rest, and this was one.
Of course, being a cat person, everywhere I go where there are cats, I have to make friends. Simba here and I got to be good buddies.
I'm really starting to miss my own critters. At least I'll be able to visit them when I get to Pennsylvania.