Start: Lawrence, KS
Finish: Lake Euphaula, OK
Miles Today: 304
Miles to Date: 6809
Trooper Mileage: 175730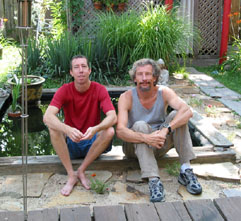 Time for the balloon ride out of here ...
After a nice visit with my brother for 4 or 5 days, I hit the road on the way to Texas. The distance from Lawrence to Houston was way to much to make in one day, so I planned a stop in Oklahoma - wasn't sure where when I left, but I figured I'd find some place.
As it turns out, when I got to the Tulsa area, I looked on the map and saw there were a number of large lakes. Since big lakes have a tendency to be surrounded by recreation areas, especially in this part of the country where fishing trips are regarded as religious retreats, I headed for Lake Euphaula and found a plethora of camping opportunities.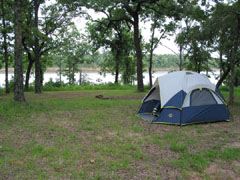 Again, this being the middle of the week, I had the campground pretty much to myself. It was only $8, and the hot showers were free (unlike the showers in many national parks where you need to feed quarters into a money slot).