My host in Houston was Deborah Hope, the sister of Lynne, who married my old friend Mike. The wedding is the subject of the June 15th journal page - take a look at it, because I had all sorts of perverse fun captioning the pictures I took at the wedding. Deborah and her husband live in Houston (obviously) and when I met her at Mike's wedding, she invited me to come visit while I was there.
Deborah asked, "What would you like to see while you're in Houston?"
I thought about this for a moment, and said, "The Enron 'E'". Yeah, silly - but what the hell. Then I said, "I'd love to see the Manned Spaceflight Center".
Deborah thought for a moment and said, "I know a guy who works for NASA - he's a part time actor when he's not doing rocket science. I'll call him and see if he can give us a tour". Deborah is also an actor - she had a part in "Space Cowboys", set in Houston. Anyway, she called him, and arrangements were made.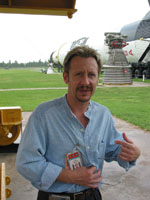 Her "friend who works for NASA" turned out to be no less than the director and chief mission controller for all Extra Vehicular Activity missions, Gerry Miller. (I think I have the titles and responsibilites correct - if not, Gerry, please forgive me).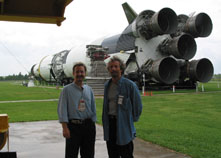 We met Gerry and a couple of other rocket scientists for lunch (they eat cholesterol burgers just like the rest of us), then drove into the facility, formally called the Lyndon B. Johnson Space Center, going first to the visitor's office where we were issued badges.
The first stop was a static display of manned space vehicles. This is Gerry to the left, actually standing under a rocket (it was raining and we had to take shelter somewhere). To the right is the two of us, with a Saturn 5 in the background. For
those of you who don't remember, or those who are too young to remember (yes, it was over 30 years ago) this is the rocket that took us to the moon. It is, quite simply, enormous. Also, this is an actual complete Saturn 5, all stages, and the manned capsule. It is not a mock-up.
The rockets were all fun and interesting, but I had seen similar ones before, at the Hunstville Space Center in Alabama and the Air and Space Museum at the Smithsonian in Washington DC.
The next things on the tour, however, could only be seen in Houston - Next Page ...