Start: Houston, TX
Finish: Austin, TX
Miles Today: 192
Miles to Date: 7459
Trooper Mileage: 176380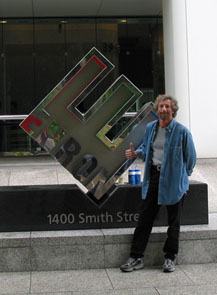 After yesterday's bonanza, I don't think anything Deborah could show me would come close. So, another quiet day. Oh, I actually did go to the Enron 'E'. Evidently is has become quite a tourist attraction.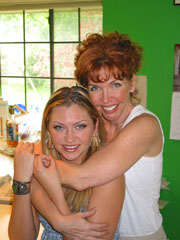 Deborah took me out to visit her daughter, who is becoming an accomplished singer, writing and singing her own material. She treated us to some of her songs.
Later in the day I departed from Houston and drove to Austin to meet up with Len and his family.
Len is a friend that I went to high school and Lehigh University with. He still works for Motorola. Although he lives in Austin, he spends most of his working time in Shaumberg, Illinois, trying to deal with the current state of affairs within Motorola. 'Nuff said about that.