Start: Austin, TX
Finish: Austin, TX
Miles Today: 0
Miles to Date: 7459
Trooper Mileage: 176380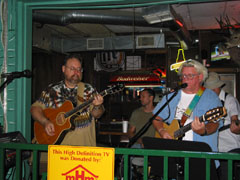 Just a relaxing day with Len and his family. In the evening we went out for dinner to a ribs retaurant. Just about every restaurant in Austin except for McDonald's has live music, at least on the weekends. The featured artists at this particular establishment were "Jerry's Kids". The lead guitarist in this band is Mike Kearney, who also was a classmate of ours at Lehigh University. The band plays exclusively Grateful Dead tunes. Fortunately the audiences these days are somewhat more circumspect in their behavior, and no longer feel compelled to fire up their Bic lighters or other combustible objects in order to summon the musicians out to perform.
It seems like a number of people from the old Lehigh days have landed in Texas. Who knows - maybe I'll end up here too someday.
Ever since I got to Austin, it has been raining like crazy. Len had been planning to take me out to his lake house with the family this weekend, but the weather made that an unattractive proposition.