I awoke about 8:15 - I was up until about 2:30 AM doing computer stuff again - but this schedule seems to work for me. I seem to get a lot done late at night, and when fatigue finally kicks in, I go to bed, read about one page from a book, then fall asleep. I often wake after only 5 hours, but I'm not tired. Occasionally I'll sleep for 7 or 8 hours, sometimes I'll nap in the afternoon. Since I have the luxury to do so, I see no problem with a varied schedule of activity and rest. I will rest when I am tired, I will be active when I am not, regardless of the hour.
The Holiday Inn was comfortable, and it was nice having regular electricity for my various and sundry techo-paraphenalia. I spent the morning doing some last minute website updates and emails, checked out about 11:30, gave my website address to the desk clerks, and hit the road again.
I decided to take back roads north instead of the larger highways. This led me through many miles of orchards, vinyards and diary farms, until I came into the Sierra foothills. The road then begain to wind and twist, going up from an elevation of about 250 feet to over 3000 and down again, more than once, through beautiful contryside consisting mostly of grass-covered mountain meadows dotted with trees - live oak, some pines, lots of others I didn't identify - and in many places, wooded areas the reminded me of rural Pennsylvania, except that the up-and-down was somewhat more severe. I passed several lakes, went through numerous little towns whose primary industry seemed to be bait, tackle and beer, and lots of lovely little (and not so little) spreads that could be and probably were farms, except no-one seemed to be working them too hard. Perhaps their primary crop was the grass in the fields that got mowed on occasion to provision the thoroughbred ranches down in the valley with hay and straw. Or perhaps their primary crop was the grass cultivated under grow-lights in their basement. Whatever ...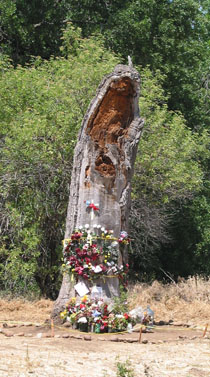 As I was driving along, I caught this in the corner of my eye, in a field between the road and a tree-lined river. I knew, even before looking directly at it, what it was.
This area, like much of the West, has a large Hispanic community. It seems that they are always sighting miraculous images of the Virgin Mary in just about everything. I personally know of accounts where the Virgin has been sighted in the twists of the fruiting branches of a date palm, in the ripples and shadows on the side of a refrigerator, and in the oil stains on a driveway. Oh well, I am not one to tell others where they should find their faith. But I must say that this gnarled and battered remnant of a tree trunk was truly remarkable. It takes essentially no imagination to see the Mother Mary holding the Child.
It obviously is a shrine held in reference, and maintained as such. Although some of the flowers adorning the ... (the what - tree? statue? manifestation?) were plastic, most were fresh-cut - the number placed around the base, along with other offerings, indicate that this place is visited daily by numerous people.
Lets call it the Virgin of Piedra. If I recall correctly, that was one of the proximate towns. Piedra, bt the way, is spanish for rock or stone.
Continuing on over hill and dale, I stopped to check location with a local, very friendly guy who thought I was someone else he knew until I told him I wasn't. Not 10 minutes later I chatted with a schoolbus driver who thought the same. Seems I have a double living up there in those hills, named Tim Harris. I just hope he's not wanted for anything.
So - eventually, about 4:00, I arrived at Bass Lake, where I could camp for the night. Although the travel distance was only 155 miles, I took me about 4.5 hours due to the slow going up and down and around and around.
I had camp set up in 30 minutes - minimal tonight - no table or cot, since I want to get out fast in the morning so I can use as much of the day as possible in Yosemite.
As the sun started going down, and I was cooking dinner (corned beef hash), I was suddenly reminded of one of the things I liked about living in the desert. Mosquitos. Or, specifically, the very small number of them, since they require standing water ro breed, and open water stands for about 15 minutes in the Arizona sun.
To make a long story short, after suffering numerous attacks on my person, I retreated to the inside of the Trooper until the feeding hour had passed (it seems it was almost exactly an hour).
Now it's about 10:15. There are others camping here - it seems to be a popular site for fishing, boating and water-skiing - but their not being too rowdy, so I'm sure I'll get a good nights rest. Which I will start now, because the latop batteries are running low.
Tomorrow on to Yosemite.