YOSEMITE
I got an early start out of Bass Lake - packed and gone by 7:30 AM. Yosemite was not that far off, so I stopped and had a leisurely breakfast at a restaurant along the way.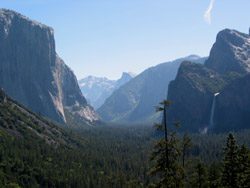 I entered the park through the south entrance on route 41. From there it was still about 20 miles to Yosemite Valley proper. This road winds through the mountains, and actually enters the valley through a tunnel. Upon emerging from the tunnel, you are immediately confronted with a vast view looking up the valley, with El Capitan prominent on the north side. The view is breathtaking. Both words and photographs fail to do justice to the actual impact that the vista has on one's senses.
On this day, the view was a little hazy, probably as a result of some smoke from a controlled burn that was being done to the south (and that I drove through).
Yosemite is one of the crown jewels of the US park system. Yosemite Valley proper, along with the Mariposa Sequoia grove, was originally put under protection by Lincoln during the Cival War, making it the first national park. John Muir, the renowned conservationist who was responsible for getting so much of the West's wonders protected (with the help of Teddy Roosevelt, among others) was responsible for getting Yosemite's borders expanded to cover the current, much larger area.
Having purchased an annual US Park Service pass for $50, which gets you into ever park, I didn't have to pay the $20 entrace fee. If anyone is planning to see more than two US parks in a year, I recommend getting one (thanks to John Glanville for the tip on that one). However, this does not cover the camping fee. In Yosemite, the fee is $18 per night. I called ahead for reservations and could only get two nights, even in the middle of the week.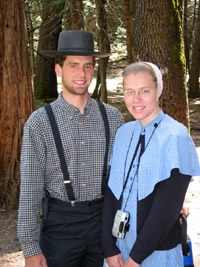 After pulling over at the exit from the tunnel and gawking for a while, I continued down the road just a little bit to Bridalveil Falls. You know how you sometimes bump into people that you know or that you've met or that know someone you know in the most unlikely places? Well ... If you've read the previous episodes of this little story, you will recall the seal rescue on the beach in San Diego, and you will also recall mention of the couple that happened along , who were obviously members of a very traditional religious order, not quite Amish, but not exactly Unitarian either. So as I'm walking up the trail to the falls, who should I bump into? Yep, the same.
We stopped and chatted for a while, I got a little background on them. They are Weston and Monica, they are from Eastern Kansas, and they belong to an order of Old German Baptists. They were also on their honeymoon, while on the way to a church function in Modesto. I'm not sure what they thought of being chatted up by this rather heathen-looking individual, but they didn't seem to mind. I bet they even have computers and internat access back at their farm.
Eventually I got to the campsite (there's hundreds here), checked in and set up. Since I had started the day early, I still had half of it left for activities, so I decided to hike up a trail that lead to two of Yosemite's several large waterfalls.