YOSEMITE
Today was dedicated to a hike up the south side of the valley, starting near the tunnel that enters the valley from the south entrance. This day also marks 4 weeks on the road - and I still haven't gotten out of California! I think this is going to take longer than I thought ...
I drove to the parking area at the tunnel where the trailhead starts. A woman with a group of four came over and commented on my walking stick, so we got to talking. I began to tell my traveling story, and one of the guys said
"this sounds familar - do you know Fred Kelley?"
"Yeah, he's my cousin"
So it turns out these people were staying with Fred and Kim (remember my cousin from Ventura?) at a lodge just outside the valley.
Here's another view of the valley, from part way up the trail.
Anyway - this hike was not super long, about 6.8 miles round trip, but it rose from an elevation of 4400 feet to almost 7000 feet. This is approximately 1/2 the vertical climb coming out of the grand canyon, which I did when I was 24, and it took me all day just going up. I'm happy to report I got up and down this in 5 hours, including rest time at the top. Of course I wasn't carrying 25 lbs of gear, just water and the camera.
The trail wound through the woods for the most part, which started out as a deciduous forest near the bottom, with lots of hardwoods, like oak. As the altitude increased, the vegetation changed to pine, fir and sequoia.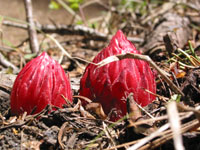 Some other hikers I passed on the way down said they saw some small black bears tearing up a log to get at ants and grubs, but I didn't see them, although I stopped, listened and looked a lot.
Not much more to say here other than the views were incredible, and there were patches of snow near the top. Actually, it got to be more than patches. Some how I managed to keep comfortable, even in shorts and tank top.
I got back to camp about 3:30, and I was bushed - the nap was wonderful. Afterwards I got to know some of the people in the next camp site, visited with them for a while, and got an invitation to come visit them when I pass through Alabama. Could be very convenient.