YOSEMITE
Last day in Yosemite - I broke camp by 9:30 and headed out to the west, stopping at Yosemite Falls on the way.
Exiting the valley, I drove the back road - mostly Route 49 - through central California, passing through many more small towns, including San Andreas - no, the earth did not shake for my benefit. Lots of rolling hills covered with grasslands and oak trees.
At one point I passed a landmark labeled "Mark Twain Cabin" - I was in Calaveras County, after all - and shortly thereafter came into the town of Angel Camp, where this weekend was being marked by the annual Frog Jumping Festival - yes, they actually Do have that, and I don't know if it was going on when Mark Twain wrote about, or if they started it after his publication of "The Famous Jumping Frog of Calaveras County"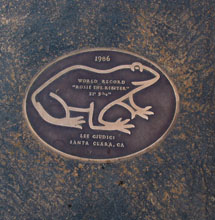 Do you remember the John Travolta star from Hollywood Boulevard? Here's a much more notable sidewalk plaque.
I briefly considered staying in this town for a while, but for some reason I had my sights set on Placerville, so I had lunch at one of the local restaurants and decided to continue on.
When I got to Placerville, I found it to be an equally charming old gold-rush town, but bigger and more going on. After walking up and down the street a bit, I came across an old hotel, the Cary House, right in the middle of town. I chatted up the desk manager a little and inquired about rates. She glanced around in a conspiratorial manner, and sure that no one was listening, told me she could let me have a room for $75. Cool. I asked if she had to make sure the boss wasn't looking. She said no, that SHE was the boss, but she didn't want the help to get the impression they could negotiate things on their own.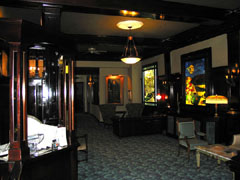 Anyway, the place was charming, dating back about 150 years. The rooms had wonderful old furniture, there was an evening snack buffet with free local wine (I tried the Cabernet and it was quite pleasing) and breakfast included. This sure beat the hell out of a Holiday Inn.
Also, the local security personnel (right) made me feel, uh, protected, and maybe just a little nervous, at the same time.
If anyone out there is in Placerville, California, I highly recommend this place. When the Hollywood celebs come to town, this is where they stay.