Start: Ventura, CA
Finish: Ventura, CA
Miles Today: 0
Miles to Date: 1427
Trooper Mileage: 170348
Later in the morning, after we've completed our good deed for the day, Fred takes me on a tour of the town. I like the ambiance of the place, even if real-estate here carries the usual California sticker-shock. However, by California standards, the prices are not that bad. It's far enough from LA to keep daily commuters from setteling here and ruingin the place. There are a lot of small but very charming houses, older but well contructed. As with any place like this, the closer to the beach, the higher the cost. I could live here.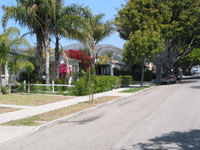 In the afternoon, we try to get everyone together for a walk down to the harbor area. Evidently trying to get three young children ready for even this small outing, what with strollers, bicycles, tricycles, helmets, and general short attention spans,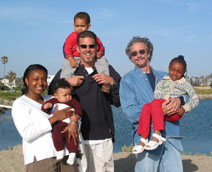 is as about involved and time consuming as suiting up the space shuttle crew. But, we get out there, play for a while, take some pictures, and generally have a good time.
Then, back to the house and evening, which involves martini's, dinner, and the West Wing.