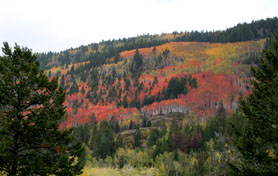 I left Evanston fairly early. Even though it was not that far (at leat on the map to the Hber Valley east of the Salt Lake area, I knew that today's travels were going to be at a leisurely pace, and would probably take most of the day.
At the suggestion of my friend Max Paul from Heber City, I took the route through the Uinta Mountains in the Wasatch National Forest to get from Evanston to Heber. According to him, it was getting to be Autumn and the colors would be notable. So, off I went.
Even though I was getting into higher country, there were still deciduous trees mixed in with the pine - oak, birch, aspen - and they were putting on their Autumn display. The newly fallen snow in places added even more contrast to the imagery.
As I climbed higher into the mountains, I encountered six distinct types of weather:
1) Rain
2) Sleet
3) Snow
4) Rain Mixed With Sleet
5) Rain Mixed With Snow
6) Sleet Mixed With Snow
This made for some tricky driving and although the cloud cover - which was a ground level at times - precluded much in the way of long distance photography, it did make for some other interesting photographic effects.
Along the way I passed small herds of cattle, who seemed to be oblivious to the weather. On more than one occasion I passed ranchers on horseback, decked out in full western regalia - hats, dusters, chaps and spurs - looking for all the world like characters in an epic western, except this was not for show - this was their actually working gear, and it was hard, serious work as they rode their mounts in the falling snow. I regret not photographing one or more of these figures, but at the time I felt I would be a little embarrassed stopping one in the midst of their work to indulge my tourist agenda.
Once again, I was pushing the poor Trooper over Serious Mountains. The climb finally crested at about 10,400 feet. The air was thin, slowing both of us - I think the Trooper suffered more than I did.