Start: Rawlins, WY
Finish: Evanston, WY
Miles Today: 281
Miles to Date: 16096
Trooper Mileage: 185017
Time to get across Wyoming - as beautiful as it is, I now have a burr under my saddle - I am actually getting anxious to get home.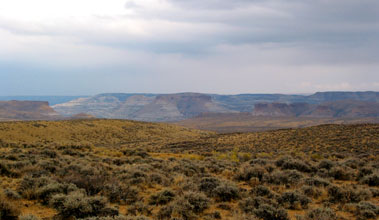 Are you beginning to get the picture yet? The West is such a huge expanse of geological wonders - mountains and canyons, forests and grasslands, and I've barely scratched the surface. It takes several days to cross it on paved surfaces at 65+ mph, with a cooler full of carbonated beverages, an unending supply of Grandma's Peanutbutter Cookies and hot showers available every evening if you want to pay the price. Think about crossing it in a wagon pulled by oxen, where the road consists of a pair of bumpy ruts (if even that), over the course of several months, with the only provisions being what you brought with you or what you could find along the way
This is Flaming Gorge, which stretches from Green River, Wyoming down into Utah, almost to Dinosaur National Monument, where I came through on one easterly leg of the journey. It is yet another marvelously sculpted canyonland, set aside as a recreational area. Joel and Amy come up from Frisco to fish here (see Colorado entries in mid-June).
I briefly went to the bottom of the canyon - I wish I hadn't been so hurried, it might have been fun to explore for a day or two - but, so many canyons, so little time.
I had to cover miles. I made it as far as Evanston. I could have made it all the way to Heber, Utah, but again the evening weather turned foul with rain, and some sleet and snow - a good night not to be camping, so yet another motel evening. The room was simple, but clean and very large. I fell asleep to the drumming of a heavy rain outside the door.