Leaving Aurora, I headed west towards Niagara Falls, but I had a pilgrimage of sorts to make before getting there. I had passed through the town of Warsaw, New York, on the way to Aurora, but didn't have the time to stop. I now had the time to do so.
Warsaw is like many other towns in upstate New York - indeed, like towns all over the country - that are the image, almost the cliché (a description not meant to be derogatory) of small-town America. Such towns consist of a downtown district built along two major cross streets, invariably with a pharmacy, an old-style movie theater, some restaurants and taverns, an insurance agency, a funeral home, and other small commercial enterprises. There is often a monument in the center of the larger road. There are usually several churches of various denominations. The downtown area is surrounded by residential areas full of older houses with large trees, covered patios, often with stained or leaded glass around the doors or in the living room windows.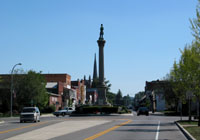 This sort of town is not a fading ghost of America Past, but still a very large and ubiquitous phenomenon which defines the lifestyle and values of many millions of people in this country.
It was in such a town, specifically this town, that I was born a little over 50 years ago. I did not live there for even a half a year, so I had no previous memory of the town. I now had the opportunity, in mid-life, to pick up a few memories and images tying the beginning of my life to what I have become since.
My parents had given me the approximate address of the house we lived in. We lived in an apartment on the ground floor. We didn't even know if the house was still there, but my parents described the house to me as having a porch on the front that wrapped around to the left, with a door on the left side of the house that was the entrance to the apartment.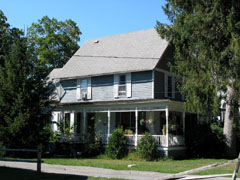 I found the house - it was still an apartment house, there were three mail boxes on the front wall - in good condition, the patio under the porch festooned with potted and hanging plants. I assume it looks much the same as it did 50 years ago.
I did not attempt to enter the house or contact anyone inside, but just stood outside for a while, recording in my mind it's lines and colors, as well as the surrounding area. I tried to call back recollections, but there were none. No matter. For now, another circle has been completed.


Leaving Warsaw, I drove west towards Niagara Falls, where I spent the night.