Moving on ...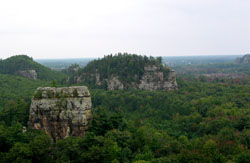 Wisconsin seems to be a patchwork of agricultural areas mixed with forest. There may be almost as much forest as farm. Crossing the state, although I was enjoying the scenery, I only stopped at one place, a state park in an area that had some interesting geological formations left over from the end of the last Ice Age.
These limestone formations are in an area that was a lake filled with glacial melt water about 10,000 years ago - not that long in geological terms. The rock columns were actually islands at the time. I hiked up one, and you could make out the remains of shoreline erosion in places. Looking out from my vantage point to these other islands, I could almost imagine the entire area being filled with water. It would have made for some interesting diving.
On the western side of Wisconsin, I once again came to the Mississippi River. As I came up to the river, I had to sit and think for a while. This was a significant milestone in my trip. I had come so far. For the first time, I think I really, consciously knew and felt that I was heading towards the end of this odyssey. Not finished by any means - but now it felt like there actually was going to be and end. And that in a matter of time, I would need to shift gears in my life once again.
I crossed the Mississippi the first time coming through Baton Rouge on my way to New Orleans. Once you get down to the Mississippi Delta, there are so many channels, canals and lakes that it is really difficult to recognize when you are crossing The River. There seems to be no single channel. Instead, the river diffuses itself into myriad tendrils, some natural and some man-made. Indeed, in places it seems harder to find solid ground than it is to find water.
Up here in the north, however, the river, though still wide and impressive, is clearly confined, flanked by hills and bluffs that reduce it's ability to meander across the landscape.
The weather had cleared nicely, and I took a little side trip down to one of the river locks built and maintained by the US Army Corps of Engineers. This turned out to be, actually, quite an interesting stop.