Start: Mahtomedi, MN
Finish: Mahtomedi, MN
Miles Today: 51
Miles to Date: 14529
Trooper Mileage: 183450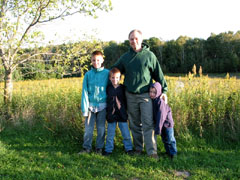 The evening saw me off to visit yet another Theta Chi fraternity brother from my days at Lehigh, Jim Rosamilia. He lives with his wife Barb and three sons in Marine on Saint Croix, on a wonderful piece of wooded property (well, yes they do have a house, not just the property). Barb was out of town on business, so it was guy's night.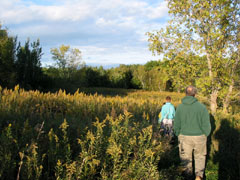 Before dinner we took a walk around, across the fields, down into the woods, along their stream and to a little place in their woods where Jim and the boys are setting up a camp site. In the fields there were blackberry bushes and apple trees - we had our pre-dinner appetizers right off the branches. After that, the boys demonstrated their highly developed sense of balance with a demonstration on unicycles. Personally, I think that it defies gravity and pushes the envelope on the laws of physics.
That's not their only talents. The oldest (Jim Jr? - forgive me Rosey, I'm lousy on names) played the cello for us - well. Yoyo Mah, look out.
Dinner was a treat - venison pot roast with oven browned potatoes and kale. I didn't let the fact the the deer that graced our plates was bagged by someone's bumper on the road in front of Jim's house diminish my enjoyment.