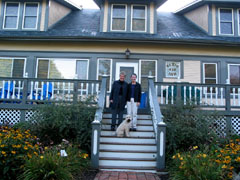 Tuesday morning (not that the day of the week really matters to me) I bid farewell to Kass and Mary and continue on my trek.
Having established a new website location that won't bind me up with bandwidth limitations, my first order of business was to try to locate a high speed connection I could use to transfer my files - approximately 80 MB worth. If I had tried to do it over the phone at modem speeds, it would have taken days.
As it turns out, I found a Kinko's printing center that had a number of computers on a network connected to a T1 line. Although they normally charge about $12 an hour to use their computers, they let me plug my laptop into their network for free. I got everything uploaded and running in less than three hours.
It was well into the afternoon when I headed out - late enough for me to catch the beginnings of rush-hour traffic through Minneapolis before I broke out onto the Great Plains. The weather turned a little foul, but I took advantage of that to test my reflexes - yep, I'm still quick, at least with the shutter-finger. Shortly after that I decided it might be best if I got quick again - getting off the hill and out of the path of the approaching storm cell.
Given the late start in the day, it was obvious I wasn't going to make South Dakota, so I stopped and spent the night in a motel in Windom, MN.
---
Here's a thought - I actually saw the following sentiment on a sign or a billboard while traveling through either Minnesota or South Dakota , both of which produce a lot of ethanol from the grain ...
Your all familiar with the current anti-drug campaign - "If you buy drugs, the money you spend may be supporting terrorism". True enough, probably as effective a message as any - but then I saw this:
If you buy gasoline, the money you spend may be supporting terrorism.
I suppose both are true - given the comparative size of the two economic sectors, which do you think eventually puts the most money in terrorist's bank accounts?