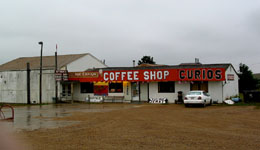 This part of the upper Midwest is vast - the horizon seems to be too far away for a planet this small - and just about until you get to the west coast, sparsely populated. Shortly after crossing into South Dakota, after seeing little sign of habitation for many miles, I saw a sign along the highway for this place, advertising amongst other things, buffalo meat (never mind that technically it's bison, not buffalo). OK, I was in buffalo/bison country, and I was also hungry - maybe they'd have some buffalo burgers - so I decided to stop in.
Well, they didn't have a kitchen, so no burgers - but they had buffalo steaks, buffalo roasts, buffalo fillets, buffalo jerky, and smoked buffalo sticks. I opted for a pound of smoked buffalo. I chatted with the proprietor, and found out that he and his wife wintered in Apache Junction, Arizona. We spent a little time trading stories. Tragically, his wife is suffering from liver cancer, and he's just hoping he can get her to Arizona for the winter. I wished him the best of luck, and continued on.
In about the next 15 minutes I ate about 1/3 of the smoked meat - it was delicious.
As I was driving along, the weather cleared. I repeatedly saw signs for the "Corn Palace" in Mitchell, South Dakota. At first I ignored them but then my curiosity was aroused. I guess that's proof that advertising works on even jaded resistant mentalities such as my own. I succumbed, and took the exit when Mitchell came up. I had to see what this was all about.
Well, here it is. It's actually the town civic center, with a basketball court, auditorium and of, of course, the Corn Palace Museum inside. It was originally built in 1892 a few blocks from this location (for the purpose of "putting mitchell on the map"), then moved and rebuilt a few times due to fires and other things. The entire external facade, and a great deal of the interior, is composed of murals made from various parts of the corn plant and other locally grown grains.
Every year and new design is drawn up, the old facade removed, and the new skin applied, except for some years during World Wars the first Great Depression (we'll see how they handle the one that just started). 3000 bushels of milo, rye oats and sour dock (whatever that is) are tied into bundles and nailed to the building early in the summer. Later, when the corn is harvested, about 275,000 ears of corn are sawed in half and nailed up. The entire process is done by hand and takes about three months.
After my Great Corn Adventure, I continued on. My eventual destination was the Badlands, but the states out here are just too big to get across in one day. So, I headed up to Fort Pierre for another motel evening.