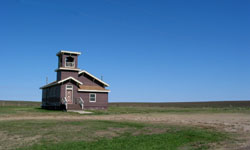 The entire state of South Dakota, approximately 380 miles east to west and 200 miles north to south - 76,000 square miles - has a population of less than 750,000 people. This figures to a little less than 10 people per square mile. Farms and ranches are huge. Small clusters of buildings, and even individual buildings, often stand in lonely places where no other sign of habitation can be seen, other than the narrow roads that disappear over the horizon.
I left Fort Pierre and made way for the Badlands, just a few hours away. I traveled across grasslands that seemed to go on forever - then, when you get to the Badlands, the edge of the world seems to drop away into a jagged, eroded landscape, as if the surface was torn like a giant piece of carpet to reveal chaos below.
The road in Badlands National Park runs along the rim of this great tear in the fabric of the land. There are so many places to stop and gaze across the landscape that you could spend all day getting from one end to another. I was trying to make my way to a campgound in the Sage Creek Wilderness Area, a "primitive" camping area - meaning no water or electricity - anything you needed, you had to bring in yourself.
Along the way, I stopped at the park visitor's center and had a conversation with this guy to the left. This is a magpie, and they're quite talkative and (obviously) not very shy.
The prairie dogs, on the otherhand are somewhat more suspicious of visitors. As I walked up to these two, it became obvious why they are called prairie "dogs" - they emit a high, squeaky barking alarm, to alert the rest of the colony that "something wicked this way comes".
I eventually found the Sage Creek camping area after traveling about 20 miles down a dirt road. The camping area was nestled in a shallow valley, surrounded by rolling, grassy hills. Scattered juniper trees dotted the hills in shallow ravines, indicating water not to far from the surface. A stream about 1/4 mile away was lines with cottonwoods. The area was also liberally dotted with ... Next Page ...