When I got up this morning - early, after a night of not sleeping very well - the skies had cleared but it was still windy. I don't know how many of you have ever tried to fold a tent by yourself in a stiff wind. Back when I was packing parachutes we used to use canvas bags full of lead shot. I really wished I had a few of those today, and there weren't nay big rocks to be found anywhere near where I was.
I took the back way out of the Badlands area, through Scenic, Wyoming. My first destination for the day was Mount Rushmore. I could not find any back roads that went directly there from where I was (at least none that were on the map) so I had to head up to Rapid City, and then south into the Black Hills.
Mount Rushmore is another one of those most-photographed places in the country. Carved out of the solid granite of the Black Hills of South Dakota, the faces of Washington, Jefferson, Theodore Roosevelt and Lincoln gaze over the countryside. The air here is exceedingly clear, some of the cleanest in the lower 48 states. This creates an optical illusion of closeness, so that you do not realize how big the monument is unless you take notice of the 40-foot trees at the base.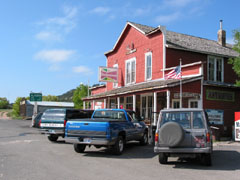 After spending about an hour I continued back to the north, taking the back roads through Deadwood, Spearfish and Belle Fourche, then west into Wyoming. My stomach told me it was lunch time, and I happened to be passing through Alladin, Wyoming - population 15. For whatever reason, the US Postal Service decided that the town merited a post office. I'd wager that being postmaster is not a full time job. Then again, given the sparse distribution of the population in this area, servicing the delivery route might still involve multiple days traveling by horseback.
Alladin also has this general store, which has been operating pretty much as it is for over 120 years (except now there's an antique store upstairs). It doesn't look like the interior has changed much, other than the addition of electricity and a few refrigerated cases. The place is still heated with a wood stove in the center of the store. Other than that, the shelves, counters and dry-goods bins are the original oak equipment.
I stopped for lunch in the cafe next to the general store and talked with the waitresses. It seems they were imported labor, since there wasn't anyone that lived in town available to work there. Hmm... maybe there's work opportunites for me there.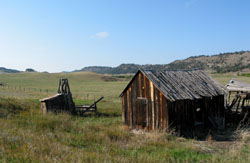 As you'd expect, ranching was the primary industry of the area. In many places, the buildings look like a western movie set - except that they're real.
After a really good bacon cheeseburger (cholesterol-be-damned, I needed the calories) I continued west to through Hulett, Wyoming to Devils Tower.