FINALLY ... I get out of Las Vegas! It seemed to take forever. My planned 3 day visit turned into a 6 day sojourn while I had to deal with more vehicle issues.
After another less-than-exciting night at the Orleans Hotel and Casino, during which I consigned a quick $20 to the slot machines, the Trooper is finally repaired - another new clutch - and I'm ready to go again. On the way out of town I stopp for another quick visit with Jeff and Susan to see their place, then join them for lunch and a mocha at a local coffee shop. Then, about 2:30 PM, I hit the road heading south on I-15 with the Mohave National Preserve as my intended destination.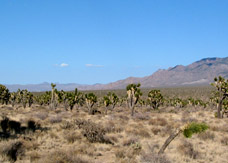 I arrive at the entrance to the preserve about 2 hours later and head in. The road is paved for a good part of the way but eventually the tarmac gives out to the typical teeth-chattering, butt-numbing, cargo-clattering, front-end-alignment-dislocating washboard type of surface that is typical of remote desert byways. Regardless, the scenery and geology are breathtaking.
I see a sign for a place called Hole-In-The-Wall indicating that camping facilities are available there, so I head off in that direction - not that there arereally all that many alternative directions to head off to, since there are only a few roads in this area. This area is very remote, and there are very few other vehicles along the way.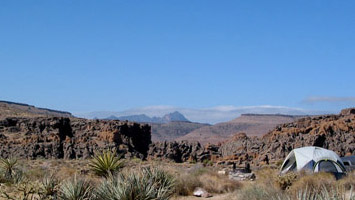 So this would be my first night of actual camping. I arrive at Hole-In-The-Wall with enough daylight time to set up my tent (which hadn't been out of the original box to this point), unfold the cot (I'm too old to sleep well on the ground anymore), assemble the propane lamp and stove, start heating up some corned beef hash, and allow myself a small glass of vodka. Since I do not have ice, a shaker, olives or the traditional glassware, a proper martini is just not possible. But, roughing it calls for these small sacrifices.
After eating, dusk creeps over the landscape, pursuing the remaining sun-glow on the horizon and pulling the blanket of evening darkness along behind it, and I find myself sitting under a gorgeous full moon, in the desert once again. It is very quiet, except for a light breeze that brings a coolness with it that promises even brisker conditions as the night wears on. As incongruous as it may seem, I fire up the laptop computer to download images off the camera and work on this site.
Eventually I tire, lay down to read for a while, and go to sleep. Until about 2:00 AM, that is. The gentle breeze of the early evening had grown into an ominous howl. My tent flapped and thrashed relentlessly for the remainining part of the night, making sleep impossible. For a while I was convinced that the tent and I would be taking a Wizard-Of-Oz type trip - except instead of landing someplace fun like Munchkinland, I'd come down someplace like the Walmart parking lot in Needles.