After a wild windy night where I didn't get nearly enough sleep, I got out of the tent and broke camp. The wind was still strong, which made taking down and folding the tent quite a challenge. Kind of like trying to pack a parachute while still descending.
Breakfast consisted of peanuts, raisins and Whoppers (I know, but hey - it's quick energy food). After getting the Trooper all packed up and looking around to make sure I wasn't leaving anything important behind, I got back on the road, which, thankfully, once again became paved less than a mile away.
On my way out stopped at Mitchell Caverns, which is part of a California state park that is totally landlocked within this enormous chunk of federal land. I took the tour of the caverns, which were small in comparison to many others, but a nice diversion none the less (and a welcome refuge from the wind, which was still howling across the the entire landscape when I left).
I left Mohave and decided to take the back way to San Diego instead of the freeways. I figured that this route would be more interesting. I was right, of course. I looked on the map and saw that the town of Amboy was on the way to Twenty-Nine Palms. Now, ANYONE who remembers Ted Nugent and the Amboy Dukes CANNOT pass up an opportunity to see Amboy. I was a worthwhile stop. The following 3 pictures give you a flavor of the town. Well, actually, they encompass most of the town. There actually was a small post office across the street I didn't take a picture of.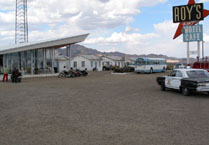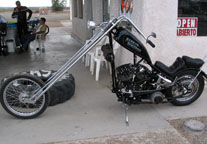 Gas here was $3.00 a gallon. That might be the reason most people rode motorocycles. They were not biker-gang types, they were mostly SoCal Rubbies (rich urban bikers). The locals were kind of colorful, though.
After gassing up here ($15.00 for 5 gallons) eating hot dog (foot-long but $4.00) and drinking a cup of coffee (free, but it had the consistency of crude oil) I continued southward, passing through Twenty Nine Palms, where the gas was only $1.55 - maybe becuase they didn't want to irritate the several thousand Marines stationed there.
After passing through much of the Southwestern Desert in the past week, I came to realize how ENORMOUS the desert is in this country - something I really didn't consider, even though I've lived in my little corner of it for over 20 years. After passing through the Twenty Nine Palms area, where our armed forces do much of their combat training, you realize why we're so good at generally kicking butt in desert warfare.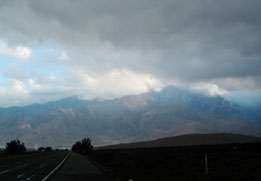 Outside of Twenty Nine Palms, the wind kicks up even more, clouds roll in, and it actually begins to rain. Cool! I can't remember the last time I saw rain. Really. It got really intense in the Banning Pass (which is where those huge electric windmill farms are located).
After a short jog on I-10 to get through the Banning Pass, I once again took some back roads (which were for the most part still fast, even if I had to pass through a few towns). I finally reached San Diego and the home of Mike and Lindsay about 9:00 PM, where I was greeted warmly by these people I hadn't actually seen in 5 1/2 years.