Start: San Diego, CA
Finish: San Diego, CA
Miles Today: 0
Miles To Date: 913
Trooper Mileage: 169905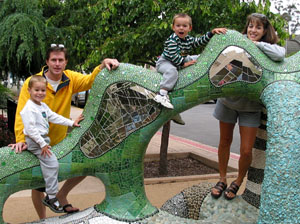 This was a Saturday - not that it made a lot of difference to me, but it was a weekend day for most other people out there. Mike, Lindsay, Parker (age 4) Colin (age 2.5) and I made an outing to Balboa Park in San Diego. Balboa Park is a large, incredibly beautiful complex of museums, gardens and walkways built earlier in the century. Mike and Lindsay told me what for - either a World's Fair or the Olympics - I should have paid better attention. Anyway, many of the buildings were done in an ornate Spanish style with an Old World grandeur that you don't see too much of in the country. The picture to the left shows the Grubensly family taking advantage of one of the outdoor scuptures, with the kids riding the dragon's tail.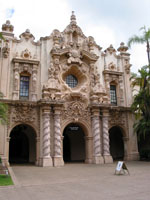 This picture to the right shows the facade of one of the buildings. This is typical of the architecture there.
Here's Colin (foreground) and Parker again, in front of one of the garden ponds.