Start: San Diego, CA
Finish: San Diego, CA
Miles Today: 0
Miles To Date: 913
Trooper Mileage: 169905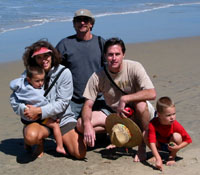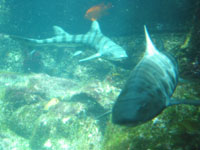 Just another relaxing day with a trip to the beach and a visit to Scripps Institute of Oceanography, which was a treat for me. If I had been more disciplined back when I was doing the university thing, I could very well have gone to grad school in marine biology or oceanography. As it is, with scuba training and a number of travels to tropical locations, as well as a summer at sea back when I was at Lehigh, I got to do a lot of that stuff anyway.
Scripps, as you would expect, had a very nice aquarium. I got this picture of a couple of leopard sharks there. It is a little blurry, since it was taken thru a foot thick plexiglas wall. The picture of the sea dragon here (a really fancy sea horse) is interesting because the colors, brightness and contrast have been enhanced from the original picture through software. In the original the animal was much less visible against the background.
In this other picture of me, overlooking the ocean with La Jolla in the background, I just lightened up a box containing me (my features were barely visible) so the other parts of the picture wouldn't get washed out.