Start: Chapel Hill, NC
Finish: Chapel Hill, NC
Miles Today: 0
Miles to Date: 10650
Trooper Mileage: 179571
OK, this is going to be one of those stops where I am participating in Healthy Lifestyle Activities. Today, a 3 mile run through Chapel Hill and the campus of the university. I go the distance with relatively little trouble, and my knees do just fine (they're not that bad but at this point I favor them somewhat). Thankfully, Roy and Jan do not feel compelled to run up steep hills.
For those of you who know Roy and/or Jan, here's a few pictures of their place. It is built on a rather steeply banked piece of land, near a creek - what is called, in these parts, a hollow (pronounced, in south-speak, a "holler").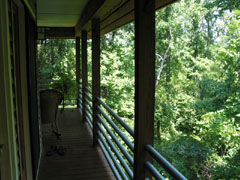 The wooded area behind the house is home to a large variety of birds and other wildllife, and makes the neighboring houses all but invisible.
Since some people may be using this site as a study in comparative architecture (and since the house is just generally really nice), here's a few other pictures of the Smith residence.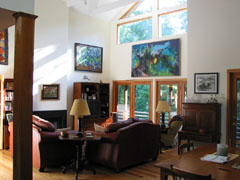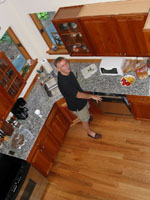 Since the house is built on a steep hill, there are basically 3 levels. The upper two levels are the living area, and the design is open over the kitchen and living area. It's vaulted ceilings kind of remind me of the place I had in Scottsdale.