Start: Chapel Hill, NC
Finish: Chesapeake, VA
Miles Today: 394
Miles to Date: 11044
Trooper Mileage: 179965
I left Chapel Hill in the early afternoon and headed in the direction of Norfolk, Virginia. called Pete Avram and let him know when I would be arriving.
Pete lives in an area of southern Virginia that, while being fairly close to the Norfolk metropolitan area, is still quite rural (seems like most of the South is like that). When I got there, the steaks were on and the beer was chilled.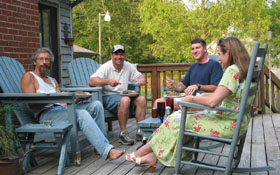 Nick and his girlfriend were also there.
Pete and Nick are both naval officers on the USS Kearsarge. It seems Pete and Nick have been following me around the country, vicariously enjoying me adventures.
They promised me a tour of the ship tomorrow, and I'm really looking forward to it.