Today I was invited to go salmon fishing by Frank's friend John. John grew up in the area, went off to college, but returned here for the lifestyle (it sure asl hell wasn't for the gleaming economic opportunities). Like many people around here, he lives in a modest but very nice home, but owns a boat that cost as much as my first house.
Frank had another friend from Pennsylvania visiting, Rick. I picked up his Philly/New Jersey accent right away. It was kind of funny hearing it way out here. We got up at 4:45 in the morning and headed out to John's place near the river, where we joined him and his friend Rich, who came in from Missoula that morning (Rick and Rich, it got kind of confusing...). Even though John's house was about 1000 feet lower in elevation than Frank's house, it was about 10 degrees cooler because of the river.
Rick and I decided not to buy fishing licences until we saw how the fish were biting that day. The river was very high and fast, which sometimes makes finding and catching the fish difficult.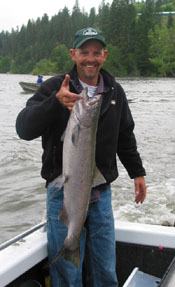 We were all on the river by about 7:30. Already there were a number of boats out looking for fish. It was grey, cool, with intermittent rain. Kind of like late February in the Lehigh Valley. The salmon weren't biting much, and it was about 9:15 before we got the first one.
This fish was designated as "my" fish, even though Rich did the catching (as I had not yet purchased a licence). It looked to be of healthy size to me, but according to John, this is a "small" fish, about 8 or 9 lbs. They get up to well over 30 lbs here, evidently. Just as well, I don't know what I'd do with 30 lbs of smoked salmon.
The weather deteriorated, the rain became steady. I parked my butt on top of the heater vent at the front of the boat. By 11:00 we had caught only one other fish, so Rick and I decided to not buy licences and called it a day. The fish were packed on ice - not that they would go bad very fast in this weather anyway. Later we found out that John and Rich had gone back out and caught 7 more in the afternoon.