Start: Lenore/Orofinfo, ID
Finish: Boise, ID
Miles Today: 281
Miles to Date: 4680
Trooper Mileage: 173601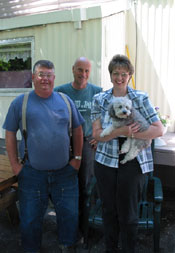 This morning I packed everything up, uploaded some website updates, and left Barb and Frank's place to head south. On the way out, I went through town, where I met Frank at Kenny's Smoke House to pick up my salmon. Kenny runs this business in a shop (which Frank built) next to his house, smoking fish and meat for the local and visiting hunters and fisherman. This is Kenny, Frank, and Kenny's wife Sharon pictured here.
After picking up the fish and saying bye to Frank, I stopped by at Barb's office and said bye to her too.
Heading out of town, the road followed the river upstream for many miles, and then headed again up into the mountains. Much of the way it was along other rivers, swollen with the summer snow melt, churning with rapids, and frequently attracting the attentions of fishermen (and women). I did not stop to take pictures. Really, how many pictures of mountains, forests and rivers can one handle?
When you are riding through Idaho, if you are listening to the radio, you have to listen to country-western music. It's the law. Actually, there's not a whole lot else available (if you can even get a station), and whether you like that kind of music or not, it's the only thing that seems appropriate, whether you are traveling through the state's mountains or across its vast farms and ranches.
Going "over the hump", it was then predominantly downhill to Boise. I found a nice but inexpensive motel in Boise near the university where I spent the evening.